Dog treats Chicken Breast mini
BARF

Without preservatives

Premium quality

Size chart
Regular price

Sale price

$19.00
share articles with others
The beloved chicken breast chips treats are very popular with our four-legged friends.
The amuse bouche chicken breast goodies are gently dried
Sensitive and for healthy feeding
A perfect treat when going for a walk or in the dog school
Ingredients:100% chicken breast
Amount of treat chips 200gr
The chicken treats are made by hand in Switzerland with a lot of love
Because of the size of the treat, it is ideal for small dogs (puppies) & medium-sized dogs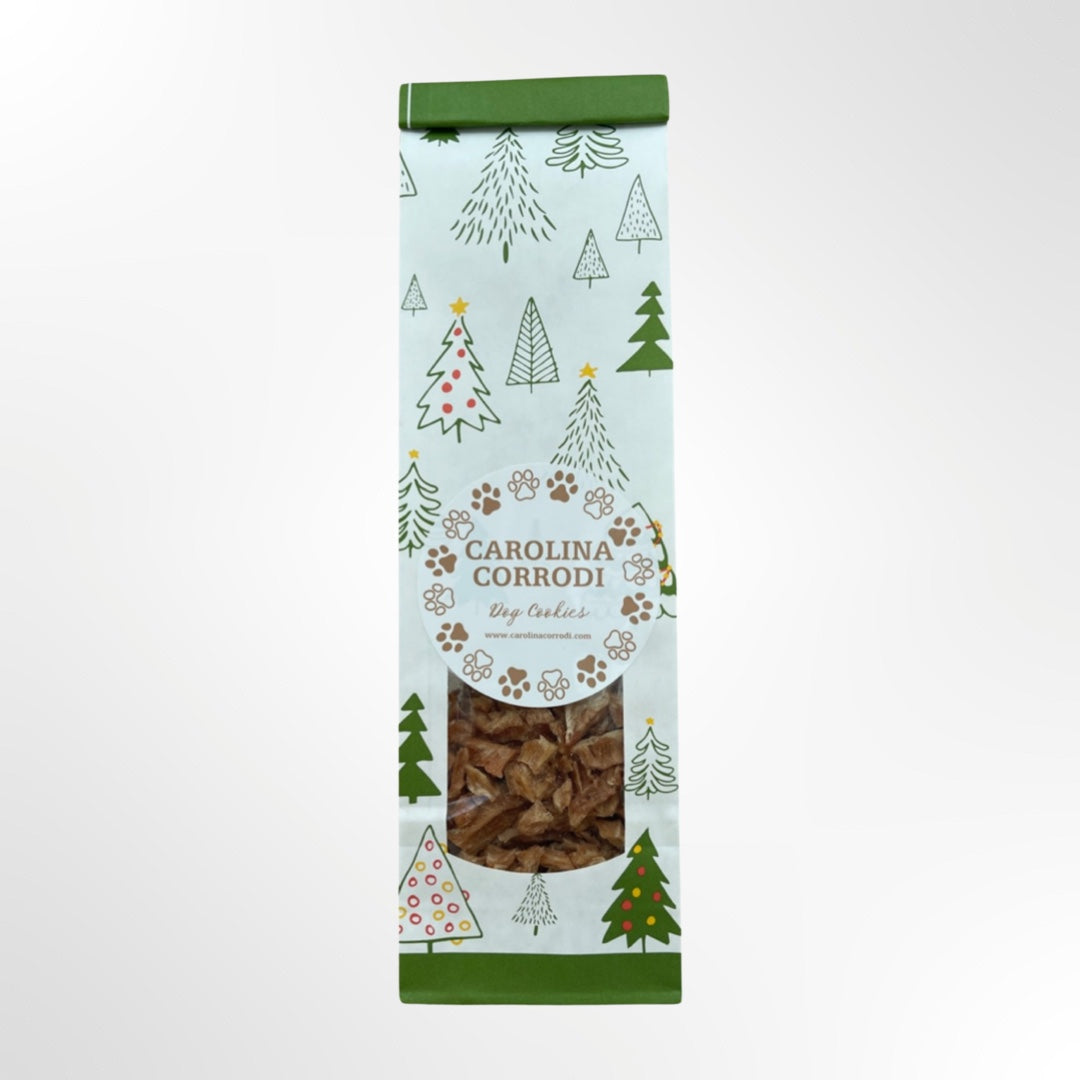 Size chart
To ensure that your beloved four-legged friend receives the perfect dog accessories, it is important to take the right measurements. Here are the steps to correctly measure your dog's chest circumference, neck circumference and back length:
Chest circumference: Chest circumference is a crucial measurement for ensuring that harnesses, dog jackets and other dog clothing fit well.
Place the tape measure around the widest part of your dog's chest, approximately behind the front legs.

Make sure the tape measure is snug but not too tight.
Neck circumference:
Neck circumference is important when ordering collars or dog harnesses.
Wrap the tape measure around your dog's neck, approximately where the collar normally sits.

Make sure there is enough room for two fingers between the tape measure and your dog's neck to ensure comfortable wear.
Back Length:

Back length is important when purchasing dog coats or clothing.
Have your dog stand up straight.

Measure from the base of the neck (where the neck meets the back) to the start of the base of the tail.

Make sure that the tape measure runs along your back and is not pulled too tight.
Once you have determined this measurement, you can choose the right size for your dog in the size table below.

Sizes leather collars with/without rhinestones
Standard sizes for our dog coats and dog sweaters
Dachshund sizes
Sizes for French Bulldogs
If you are unsure, do not hesitate to contact our customer service. We are happy to help you find the perfect size for your pet so that it feels completely comfortable.
shop@carolinacorrodi.com
or
+41765189911
Premium brand for dog fashion & dog accessories in Switzerland
First-class dog fashion with meaning and purpose from Switzerland.

Made from the finest materials and finest fabrics.

Every order actively supports animal shelters around the world.

GAIA Collection: Made from 100% recycled raw materials.